On Saturday of May, 27, two men observed a slow moving UFO transversing the sky just outside of Publix on Hendersonville Road. No noises were reported by witnesses. At the same time, communities near the Blue Ridge Parkway also reported a 'drone' flying over on Saturday. To date, this is the most recent Asheville sighting. Both witnesses are credbile, were sober and work within the technology field.
Here is the original cell phone picture taken by the witnesses: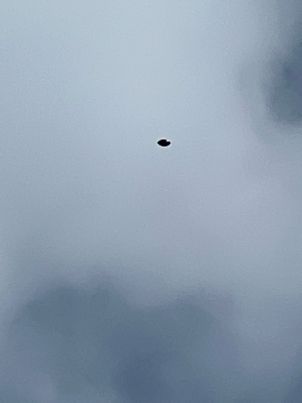 Slow moving UFOs (or UAPs) seen in the day are more rare than night time sightings. The flight path of the object follows the same military flight path that intersects the Blue Ridge Parkway. [Update 6/2/2023] - the main witness (who took the photo) reported the speed of the UFO to be similar to that of a standard helicopter.
The object was going northward, traveling at around 1000 feet and going North from Hendersonville to Asheville. According to the witnesses, the object was dark grey/charcoal from their vantage point.
At this time, the direction of the object seen near Pisgah has not been confirmed.
WEATHER: On this day, wind was either calm or out of the NE. The object was flying into the wind, not with the wind. [ AVL WEATHER DATA ]